02 May, 2016
Betsy Team wins at 2016 Inn Key Awards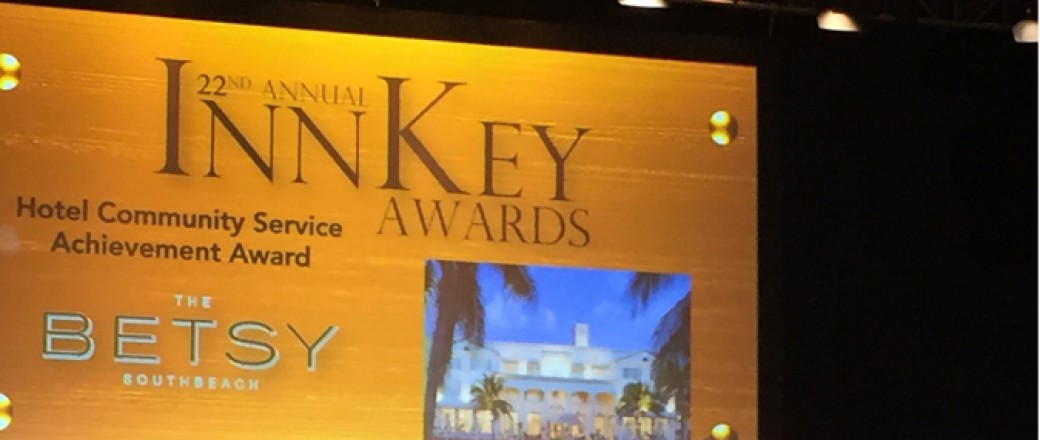 The Betsy-South Beach was recognized with the Hotel Community Service Achievement Award on Friday, April 29, as part of the 22nd Annual Greater Miami and Beaches Hospitality Association Inn Key Awards. As a boutique hotel located on Ocean Drive, The Betsy embraces 'things that matter' under the auspices of a Philanthropy, Arts, Culture, and Education (PACE) Program. Indeed, The Betsy has emerged with a beauty that is more than skin deep, offering an inspiring outlook that extends beyond its own neighborhood in South Beach - to the world. A recent audit of community based programs during Betsy's first seven years of operations reveals many examples of this important work:
Creation of The Betsy Writers Room, our cornerstone program that has welcomed 300 writers to the Beach since 2012 – with a companion salons initiative that invites members of the community to meet writers and enjoy their work.
Participation as community-builder by leadership (ownership and management) to assist nonprofit neighbors in convening around pressing issues, such as sustainability, operations, and service.
Staff led community-based volunteering including - participating for several years running in the Habitat for Humanity mega build, and cooking Thanksgiving dinner at Camillus House.
Co-sponsorship with PG Foundation of Zara's Center for Youth in Bulawayo, Zimbabwe – where we help to feed, clothe and cover school fees for 150 children, whose lives hang in the balance. (See zarascenter.org for more information)
These are just a few of the many projects that were considered for the award.
Jeff Lehman, The Betsy's Managing Director says, "I'm proud of The Betsy for its abiding and unrivaled commitment to making the world a better place. It's the reason many of us who work at The Betsy get up in the morning, and why we are so proud of the day we've put in when we go to sleep at night." Lehman asserts, "Whether we're helping the LGBT community to address the needs of transgender Miamians, or raising the funds to feed children in Zimbabwe, or welcoming children from Liberty City to a hotel for a field trip. The Betsy's PACE program makes us proud."
Indeed, we are proud of this accomplishment, and will continue to dedicate our time, energy and efforts to expanding our projects here on Miami Beach, and beyond, as part of The Betsy Philanthropy, Arts, Culture, and Education (PACE) program.
To learn more about Betsy PACE, visit our Community page.
"Perfect romantic getaway in our favorite beach town! The rooms were very cute, very clean, and perfect for our beach needs."

- Melliet

"The The Betsy Hotel is in a great location where you can park your car and walk to everything."

- Stuart B - Hoover, Alabama

"Perfection is the only word that fits it—beautiful in every way."

- William - Prescott, Arizona

"I can't say enough nice things about the The Betsy Hotel. The service was excellent and very friendly."

- Joe M

"Amazing restoration of a beautiful property within walking distance of the beach and Del South Beach for dinner."

- Mike R - Juno Beach
Previous Testimonial
Next Testimonial