14 Feb, 2016
Four-legged friends at The Betsy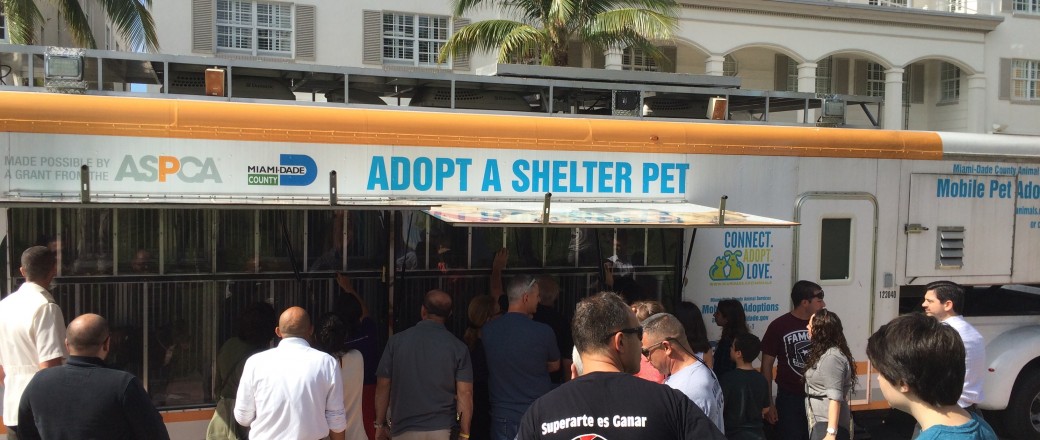 The Betsy - South Beach has partnered with Miami-Dade County Animal Services to host the HOPE Express on the last Saturday of every month. Miami residents and visitors can meet shelter dogs and cats in need of homes and find out how to provide a forever home for one of these lovable creatures.
The Betsy holds very near and dear our four-legged friends. Hotel owners, Jonathan Plutzik and wife Lesley Goldwasser favor larger breeds of dogs; you'll find their Golden Retriever, Katie, lounging in the hotel's Lobby Salon near the piano, on many an afternoon. She's very good natured and friendly - and hard to resist saying hello to. Jeff Lehman, Betsy's Managing Director, can't resist a chihuahua - and has adopted several over the years. Weekdays in the office include the company of Tina, Chelsea, or Rita - all adorable chihuahuas with their own individual personalities.
We've hosted a few four-legged characters of the years, as well. We've created a fun pinterest page with images of some of our furry friends - which you can view here.
The Betsy is committed to Philanthropy, Arts, Culture, and Education, with a passion for creating community while providing the highest level of service to all of our guests. Our partnership with Miami-Dade Animal Services and their HOPE Express is just another expression of our mission. The Betsy is a dog-friendly hotel (with some restrictions), and we're happy to answer questions you may have about bringing a four-legged member of your family along on your next visit to South Beach. With our partners at Miami-Dade Animal Services, we're helping shelter pets find their forever homes and families of their own.
Hope to see you here in Miami Beach, soon.
"Perfect romantic getaway in our favorite beach town! The rooms were very cute, very clean, and perfect for our beach needs."

- Melliet

"The The Betsy Hotel is in a great location where you can park your car and walk to everything."

- Stuart B - Hoover, Alabama

"Perfection is the only word that fits it—beautiful in every way."

- William - Prescott, Arizona

"I can't say enough nice things about the The Betsy Hotel. The service was excellent and very friendly."

- Joe M

"Amazing restoration of a beautiful property within walking distance of the beach and Del South Beach for dinner."

- Mike R - Juno Beach
Previous Testimonial
Next Testimonial