17 Mar, 2015
The Miami HEAT and Hublot at The Betsy - South Beach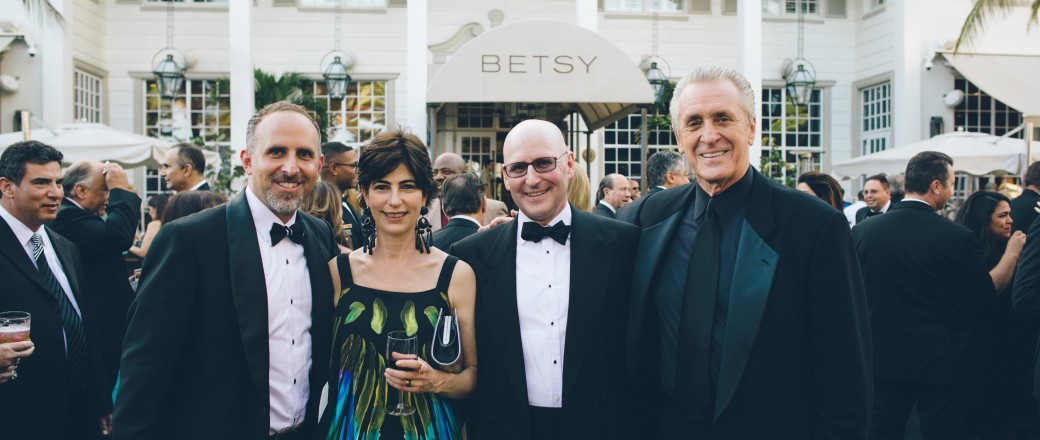 MIAMI, March 16 – On Saturday, March 14th, the Miami HEAT Charitable Fund raised over $1,100,000 at its benefit "Black Tie on Ocean Drive" presented by HUBLOT. This year's gala was hosted at The Betsy-South Beach and featured a performance by seven-time Grammy award winner, Toni Braxton. HEAT Managing General Partner Micky Arison, his wife Madeleine, HEAT President Pat Riley, his wife Chris, the 2014-15 Miami HEAT team and Head Coach Erik Spoelstra were in attendance. The gala's cocktail hour was hosted on world-renowned Ocean Drive, which was closed to vehicular traffic. This was the first time the event was hosted in a semi-public venue, which gave HEAT fans the opportunity to see their favorite Miami HEAT players arrive via a red carpet entrance in front of the Betsy. Over 175 guests attended the ultra-exclusive event sporting their elegant Black Tie attire. (www.nba.com/heat)
Scroll down to see images and a video from the event.
Pat and Chris Riley, with guests inside the Lobby Bar at The Betsy - South Beach
The cocktail party on Ocean Drive was amazing, with all of Miami's elite gathered at The Betsy's door.
Gabrielle Union, Actress, with her husband, Dwayne Wade, Miami HEAT player, photographed with Hublot's newest watch bearing Wade's name.
HEAT President, Pat Riley and Erik Spoelstra, HEAT Head Coach, shown with BLT Steak Executive Chef, Laurent Tourondel (center)
Miami HEAT player, Dwayne Wade
Former HEAT player and Miami philanthropist, Alonzo Mourning with guests
Chris Anderson (Birdman), Miami HEAT player, shakes hands with Eric Reid and Tony Fiorentino, Miami HEAT TV Announcers
Gabrielle Union looks on as her husband, Dwayne Wade and fellow HEAT player, Udonis Haslem, pose with the NBA Championship Trophies
HEAT Player Chris Bosh with his wife, moving through the crowd to the dinner tent in Lummus Park
A Bird's eye view of Ocean Drive and Lummus Park, from The Betsy's Ocean Deck.
CLICK THE VIDEO ABOVE TO SEE MORE OF THE EVENING'S FESTIVITIES
"Perfect romantic getaway in our favorite beach town! The rooms were very cute, very clean, and perfect for our beach needs."

- Melliet

"The The Betsy Hotel is in a great location where you can park your car and walk to everything."

- Stuart B - Hoover, Alabama

"Perfection is the only word that fits it—beautiful in every way."

- William - Prescott, Arizona

"I can't say enough nice things about the The Betsy Hotel. The service was excellent and very friendly."

- Joe M

"Amazing restoration of a beautiful property within walking distance of the beach and Del South Beach for dinner."

- Mike R - Juno Beach
Previous Testimonial
Next Testimonial