01 Jul, 2015
Miami Spa Month Returns to The Betsy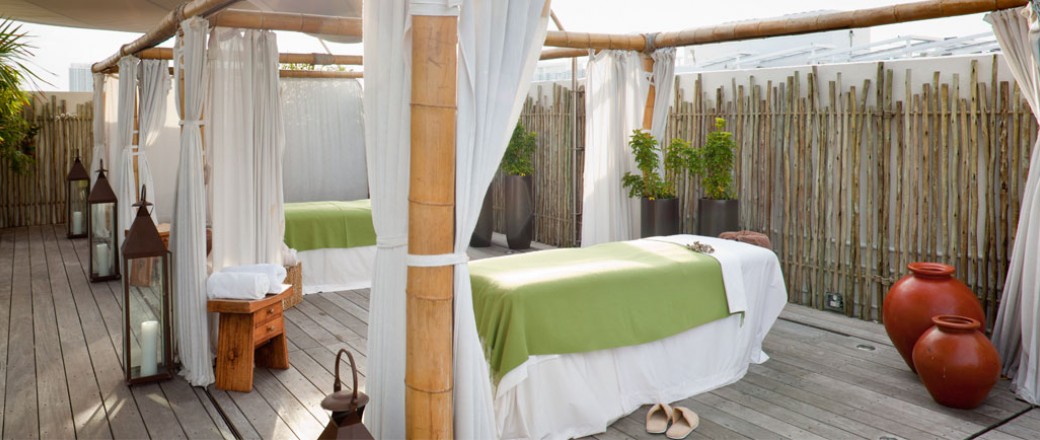 Innovative, creative and transformative spa treatments designed to transport you to the South Pacific or Cleopatra's Egypt, soothe athletic muscles, bond with family, or even pamper "man's best friend" alongside you are literally on deck (Miami's only open-air roof deck spa) for Miami Spa Month, one of Miami's most anticipated events, at The Betsy-South Beach Rooftop Wellness Garden and Spa. These are indulgent 60- 70- and 80-minute treatments, some newly created exclusively for Miami Spa Month and others among the most luxurious spa treatments in Miami.
As if it doesn't get better than the creative Miami Spa Month menu (below), guests of The Betsy will be able to choose from all-natural gluten free, sugar free or dairy free Popsicles to enjoy after their Miami spa treatment while gazing out at the ocean on the private roof deck. With the pooch, of course.â?¨
The Zen-inspired Betsy Wellness Garden was designed to soothe the senses by using earth-born elements, including liberal use of wood, stone, bamboo and natural fibers. Shielded by retractable sails set horizontally in the sky, Miami's favorite private cabanas capture a light ocean breeze and allow guests to become one with nature. Sweeping, unobstructed views of the Atlantic Ocean peek out just above the palm trees and the surrounding garden, instilling a nurturing sense of calm in the heart of South Beach.
Miami Spa Month at The Betsy Rooftop Wellness Garden & Spa

Golden Glow: The most luxurious spa treatment in Miami, available only during Miami Spa Month. Therapeutically, pure gold dates back 5,000 years to Cleopatra, who was said to sleep in a gold face mask every night to maintain her beauty. This 80-minute treatment harnesses the powers of the precious mineral to diminish fine lines and wrinkles, stimulate collagen, as well as hydrate and tauten skin. A mask of nano gold (1/2000 the size of an average pore) and 99.999% pure gold infuses the skin, imparting a luminous, glowing complexion. 80 minutes. $129

The Hemingway: Among the Spa's top signature treatments, this therapeutic nod to Florida's favorite novelist is available for a special price. Ideal for the athletic person seeking a little respite with physical and mental reflection, the journey begins with a deep tissue massage focuses on the lower back and other key areas to realign the body and maximize its movement. The package then concludes with a hot towel facial. All therapies include Stone Crop products to bring back vitality and hydration to the skin. 60 minutes. $99

Capri Breeze: The rooftop's balmy breezes are matched with cooling sensations for the perfect summer spa experience in Miami. The body is lathered in a creamy scrub of Pacific sea salts, Nori Seaweed and exotic oils and butters. Renewed skin is then soothed with a personalized massage. A concluding foot soak of Hawaiian Alaea sea salt and peppermint oils reduces swelling, while increasing circulation amongst refreshing sensations. 70 minutes. $129

Cooling Coconut: Tropical beauty from the inside out. The treatment begins with a glass of fresh coconut milk to sip while soaking in the rooftop's ocean views. The body is then doused in a chilled coconut milk cleanser that gently soothes dry, irritated, or sunburned skin. A massage with a firming lotion of coconut, Shea butter and grape seed oils imparts lasting effects of hydration and supple, taut appearance. 60 minutes. $99

"Tu y Yo" Tropical Family Treatment: Spending time with your little ones in Miami Beach can now actually be relaxing. All are greeted with a welcome "mocktail" of watermelon and ginger infused sparkling mineral water. For the treatment, kids are wrapped in an exotic cocoon of watermelon, banana, baobab, and yogurt while parents enjoy an avocado and watermelon seed sugar scrub. A stream of bubbles adds light wonder and whimsy to the experience. The final treat is a French Vanilla Milkshake massage to soothe active limbs and minds. All products are 100% organic. 60 minutes. $99 per person.

Pampering with Pooch: Treat your number one companion with a couples massage like no other. With your pup at your side, soak in Miami's gentle oceanside breezes from the Daydream Cabanas, where plush beds and personalized pampering await. While you enjoy a massage delivering the relaxing benefits of aromatherapy oils, pup can also enjoy a personalized experience of gentle massage, crisp water and healthy nibblers. 50 minutes + 10 minutes for your pooch. $99
"Perfect romantic getaway in our favorite beach town! The rooms were very cute, very clean, and perfect for our beach needs."

- Melliet

"The The Betsy Hotel is in a great location where you can park your car and walk to everything."

- Stuart B - Hoover, Alabama

"Perfection is the only word that fits it—beautiful in every way."

- William - Prescott, Arizona

"I can't say enough nice things about the The Betsy Hotel. The service was excellent and very friendly."

- Joe M

"Amazing restoration of a beautiful property within walking distance of the beach and Del South Beach for dinner."

- Mike R - Juno Beach
Previous Testimonial
Next Testimonial