21 Sep, 2017
LT Steak & Seafood: The Art of Great Eating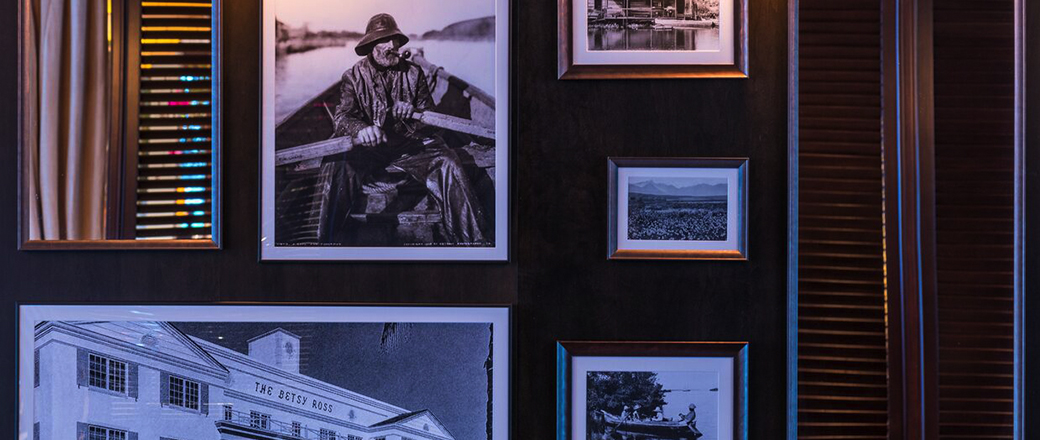 Selections from the historic image collection on the walls of LT Steak and Seafood at The Betsy.

Q&A with Diamente Pedersoli and Carmelina Santoro, Designers

Q: How many images are in the collection?
A: 18 images and 7 mirrors

Q: What was your inspiration for this installation?
A: The inspiration for the collection was actually the location. While this restaurant is located on South Beach, we did not want to have a collection of 'celebrities' as one might expect. Rather, we wanted to select images of real people that have a real historical connection to the place where the LT restaurant is located. Additionally, we wanted to express the deep respectful link to natural environments that provide the ingredients for the food served there.

Q: Why did you decide to use black and white imagery, exclusively?
A: We selected B/W images because it works well in the context of the color palette for the entire design project.

Q: Do you see the collection as primarily decorative or message-driven?
A: The collection is definitely decorative, because as designers, we love to decorate. At same time our design is also always linked to the location and environmental history of a place. More than a 'message', we wanted to 'quote' situations related to quintessential Florida life, the historical time of the (original) Betsy Hotel construction, and to the type of restaurant that is hosting the collection.

Q: Talk a bit about why mirrors are an important part of the project?
A: We decided to mix images and mirrors for 2 reasons:

1. To widen the space

2. The random location of those, and the use of different sizes, will have people seeing their reflection, with they least expect it, so that they will feel like part of the whole collection they are looking at … when viewers

Q: Is this a permanent or temporary installation?
A: This is envisioned as a semi-permanent installation. Yet, the space is malleable and we imagine will invite us over time to turn over the exhibit - and to explore the
juxtaposition of new images that will allow us to revisit the messages of time and place that are particular to South Beach, (past and present), as well as the values and mission of The Betsy Hotel, and its culinary partner, LT Steak and Seafood.

Q: If you have a favorite image in the collection, which one would it be?
A: We like them all, but if we had to pick one or two, we would probably say the Fish market one, called "Commercial Prosperity" and the "Native Fishing Boat " one: they communicate to me joyful and serene emotions.

(Images taken from … NY Public Library Public Domain Images-from The New York Public Library's collections.)
"Perfect romantic getaway in our favorite beach town! The rooms were very cute, very clean, and perfect for our beach needs."

- Melliet

"The The Betsy Hotel is in a great location where you can park your car and walk to everything."

- Stuart B - Hoover, Alabama

"Perfection is the only word that fits it—beautiful in every way."

- William - Prescott, Arizona

"I can't say enough nice things about the The Betsy Hotel. The service was excellent and very friendly."

- Joe M

"Amazing restoration of a beautiful property within walking distance of the beach and Del South Beach for dinner."

- Mike R - Juno Beach
Previous Testimonial
Next Testimonial