22 Sep, 2016
Writer's Room Alum: Idra Novey, in the news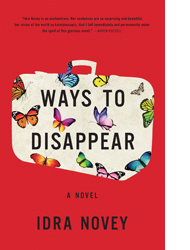 Idra Novey is a poet, translator, and newly-minted fiction writer. Ms. Novey was a Writer in Residence here at The Betsy Writer's Room back in May, 2015. The Jewish Book Council recently interviewed Ms. Novey on her first novel, Ways to Disappear. Ms. Novey spoke about her novel during her stay with us. It addresses the power and powerlessness of parents, children, writers, and their translators, brought to light when an internationally acclaimed Jewish Brazilian writer vanishes into the branches of an almond tree.
You can read the interview, conducted by Michelle Zaurov for Jewish Book Council, HERE.
To learn more about The Betsy Writer's Room Breakfast Arts Salon Series, visit thebetsyhotel.com/culture.
"Perfect romantic getaway in our favorite beach town! The rooms were very cute, very clean, and perfect for our beach needs."

- Melliet

"The The Betsy Hotel is in a great location where you can park your car and walk to everything."

- Stuart B - Hoover, Alabama

"Perfection is the only word that fits it—beautiful in every way."

- William - Prescott, Arizona

"I can't say enough nice things about the The Betsy Hotel. The service was excellent and very friendly."

- Joe M

"Amazing restoration of a beautiful property within walking distance of the beach and Del South Beach for dinner."

- Mike R - Juno Beach
Previous Testimonial
Next Testimonial