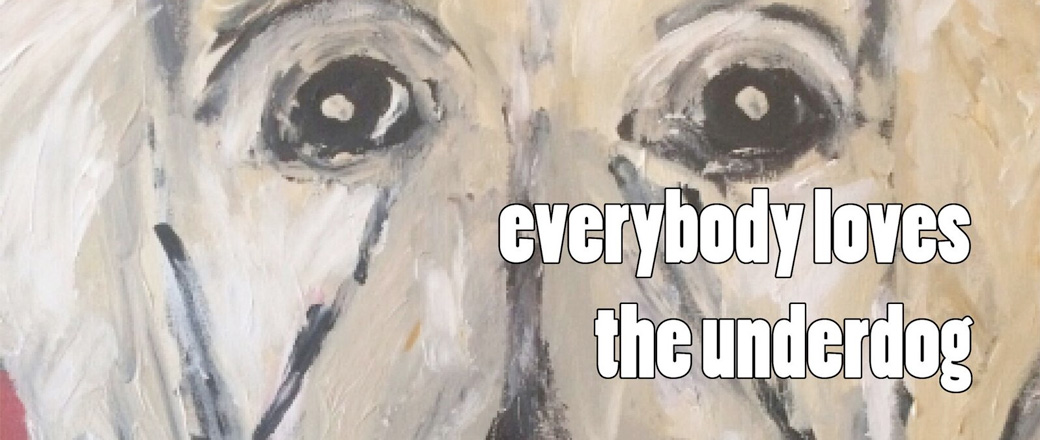 Everybody Loves the Underdog
In December 2016, I was fortunate enough to visit the exhibitions of famous Art Basel | Miami Beach. There were so many beautiful works by many famous artists, and there were many portraits of people - but I really was surprised at the lack of dog portraits. Yet, there were a few interesting works, and I took video of that visit to share with you as part of this exhibit.Still, I wanted to create an exhibition that really speaks to me, as a dog. I invited my friend, Eric Ginsburg, a NY-based artist that truly understands the value and importance of dogs in this world, to share his works with you. Together, we are proud to present in the Underground Gallery: Everybody Loves the Underdog. Watch out Art Basel, here we come!
Katie
Canine Executive Officer
The Betsy – South Beach
Works are available for purchase, with a portion of sales benefitting the SPCA in Bulawayo, Zimbabwe, supported by the Plutzik Goldwasser Family Foundation. See the Concierge or Front Desk for assistance, or email Jean Blackwell Font at jean@thebetsyhotel.com.

Eric Ginsburg is available for commissioned dog portraits. For assistance, contact jean@thebetsyhotel.com.
VIEW AND DOWNLOAD THE EXHIBITION CATALOG
THE BETSY CELEBRATES NATIONAL DOG DAY
Saturday, August 26 1PM to 5PM
Visit the Miami Dade Animal Services HOPE Express to adopt a Pet. Meet artist, Eric Ginsburg and Curatorial Assistant, Betsy Ross. Take an exhibition catalogue home with you, and receive an O, Miami Poetry Bandana for your doggie - in pink, blue, or red! No RSVP necessary. Learn More >
"Perfect romantic getaway in our favorite beach town! The rooms were very cute, very clean, and perfect for our beach needs."

- Melliet

"The The Betsy Hotel is in a great location where you can park your car and walk to everything."

- Stuart B - Hoover, Alabama

"Perfection is the only word that fits it—beautiful in every way."

- William - Prescott, Arizona

"I can't say enough nice things about the The Betsy Hotel. The service was excellent and very friendly."

- Joe M

"Amazing restoration of a beautiful property within walking distance of the beach and Del South Beach for dinner."

- Mike R - Juno Beach
Previous Testimonial
Next Testimonial