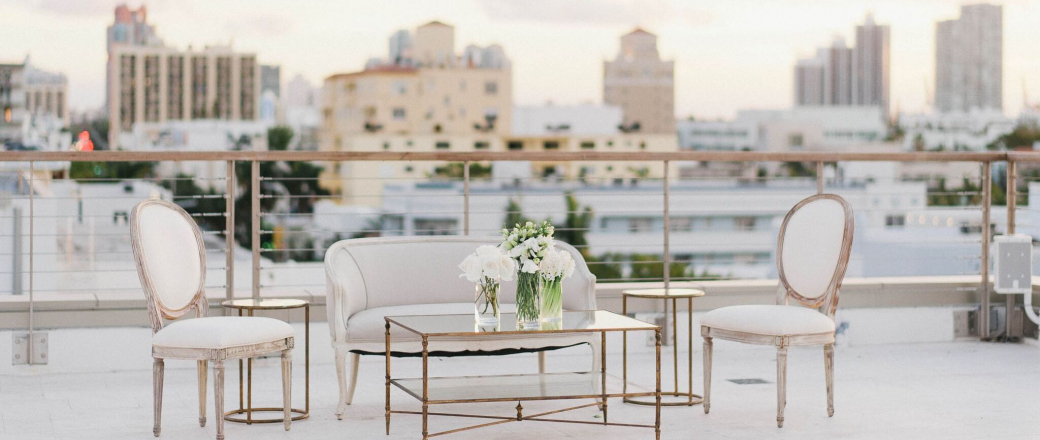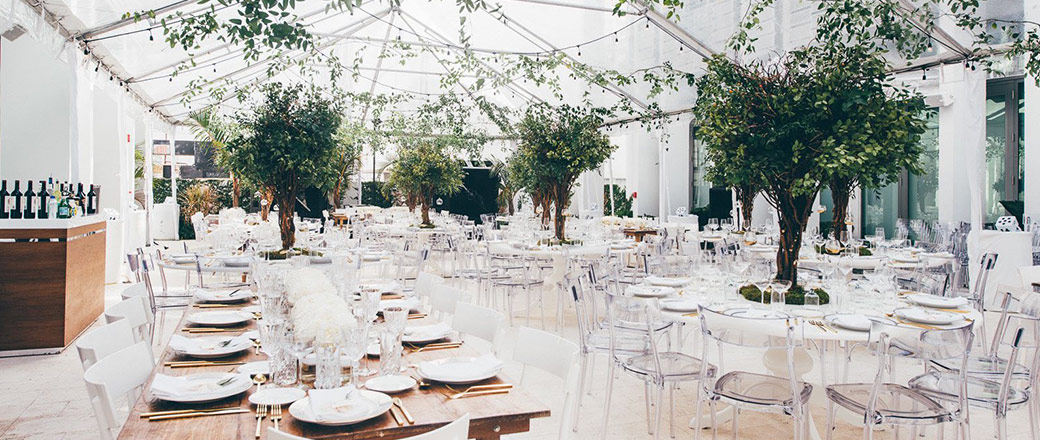 Stunning Settings For Celebration
From intimate rehearsal dinners in the sultry, subterranean B Bar to sunset ceremonies on the Skyline Deck, The Betsy offers one-of-a-kind settings for your wedding celebrations. Whether you envision an intimate ceremony with a few invited guests or a weekend-long South Beach destination wedding, The Betsy makes it memorable.
Entering The Betsy is like walking into the home of the classiest person you know. -
- Brides U.K.
Ocean Front Deck
Up to 200 guests
3,750 SQ FT
Quite simply, our Ocean Front Deck stands out among South Florida's most sought-after wedding venues. Intimate and unforgettable, it pairs breathtaking views of the Atlantic Ocean with a refined and romantic atmosphere. Perfect for an oceanfront wedding ceremony or rehearsal dinner under the stars.
B Bar
Up to 90 guests
1,100 SQ FT
Stylish and sophisticated, B Bar is a sultry, subterranean showplace with an unmistakable touch of vintage Miami glamour. Perfect for a rehearsal dinner for 50 or a cocktail reception for up to 90 guestss.
LT Steak & Seafood
Up to 120 guests
1,998 SQ FT
A light, airy and exquisite space for entertaining, LT Steak & Seafood is flawless and flexible. Used in its entirety, this striking space can accommodate up to 120 seated guests for lunch, brunch or dinner. The main dining room and semi-private dining room accommodate 84 and 36, respectively, for dining.
the atrium
Up to 300 guests
3,000 SQ FT
South Florida style meets a touch of European elegance in the Atrium, a beautiful and flexible setting for a bridal luncheon, formal rehearsal dinner, or large cocktail reception. This space connects seamlessly to the Gallery and Conservatory.
Gallery
Up to 150 guests
1,600 SQ FT
Offering seamless access to the Atrium and Conservatory, the light-filled Gallery is a blank slate for your imagination. High ceilings, natural wood finishes and original works of art set the stage for a small, informal reception or elegant seated lunch or dinner.
Skyline Deck
Up to 120 guests
1,481 SQ FT
The highest point of our Art Deco Wing, our Skyline Deck is an exquisite outdoor backdrop for your wedding ceremony. Featuring 360-degree views of the Miami skyline and Atlantic Ocean, this setting sparkles from sunrise to sunset . Use the deck's existing furnishings or create your own wedding day oasis.
Rooftop Pooldeck
Up to 500 guests
6,800 SQ FT
A shimmering setting overlooking the Art Deco District, the Pool Deck is a serene retreat with east and west facing views of the city skyline. Ideal for daytime functions or sunset get-togethers around the beautifully lit pool.
Skyline Penthouse & Terrace
Up to 50 guests
900 SQ FT
An intimate and romantic retreat, the Skyline Penthouse & Terrace is a one-of-a-kind space complete with a lushly landscaped wrap-around wood terrace, stylishly furnished living areas indoors and out, and sparkling chandeliers.
CARLTON ROOM
Up to 150 guests
1,683 SQ FT
A beautiful space with lots of natural light and direct Collins Avenue access, the Carlton Room exudes the cozy comfort of a sophisticated Miami living room. A built-in espresso and wine bar make it an ideal spot for informal gatherings. This space can be used in conjunction with the Gallery and Atrium.